ClickFunnels Signup Guide: 7 Steps to Creating Your Account
Creating a ClickFunnels account is an extremely easy process. However, you have to read their terms and conditions carefully before sign-up. You can create an account to sign-up or register through a shared link. Here, you will be offered a 14 days free trial as a new customer.
Whenever you sign-up for ClickFunnels you see a form which is full of information.  In this situation, we will give you all the detailing process.
So that you can sign-up for the account without any hassles.
Clickfunnels Overview
Product Name: Clickfunnels Software
Clickfunnels trial: Click Here
Bonus + Discount: Yes – Get Your Bonus here
Price: $97/month (basic) or $297/month (Actionetics)
Niche: Software / Marketing & Sales
Refund: 14 Days FREE trial + 30 Days Money Back Guarantee
How to Sign-up For ClickFunnels? 
If you are in a business you must have to sign-up to a ClickFunnels account.  It is required for your business to grow.  To open an account, you have to need a working email, credit card, and your personal information details.
To sign-up for ClickFunnels, there are two ways.
Create a new account.
Register from a shared funnel URL.
How to Create a ClickFunnels Account?
 To create a new ClickFunnels account, you have to follow just 7 easy steps:
‌‌‌

Step #1: Open ClickFunnels.com
Step #2: Select the blue button of Start Free 14-day trial now. 
Step #3: Check all the required space to fill and then click START Building My First Funnels! Blue button.
Step #4: Fill up the billing information.
Step #5: Agree all their agreements to ClickFunnels Terms of Service, Privacy Policy, and Affiliate.
Step #6: Click on the button of Process My Payment & Information. 
Step #7: After that, you are officially registered with ClickFunnels and now you can use this account for your business.
Here, we will explain the whole process in more detail. So that you can understand the process smoothly.
Step #2: Press the Start Free 14-day trial now blue button.
The first button is located at the top of the left corner. Here, you will see many buttons all over the ClickFunnels home page.
Therefore, you can scroll throughout the home page to get a proper impression of ClickFunnels and then sign-up later.
However, when you click the Start Free 14-day trial now button,  you will see a new page. Here, you have to fill up the blank space with your email address and other details.
Step #3: After finishing the fill-up of the required space, press the Start Building My First Funnel blue button.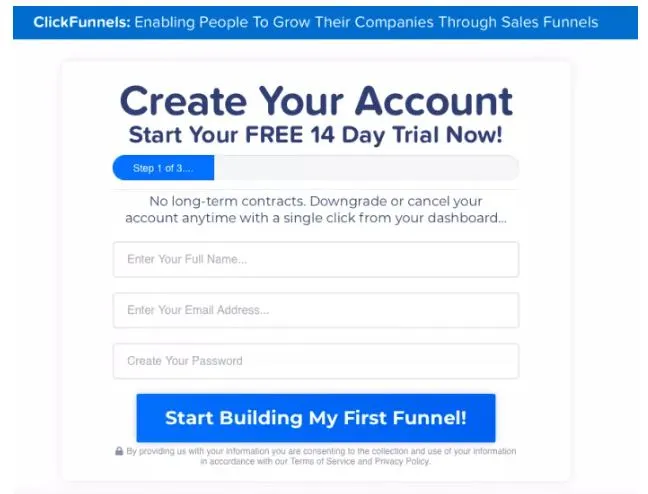 Step #4:  Fill up the Quick Billing Information page.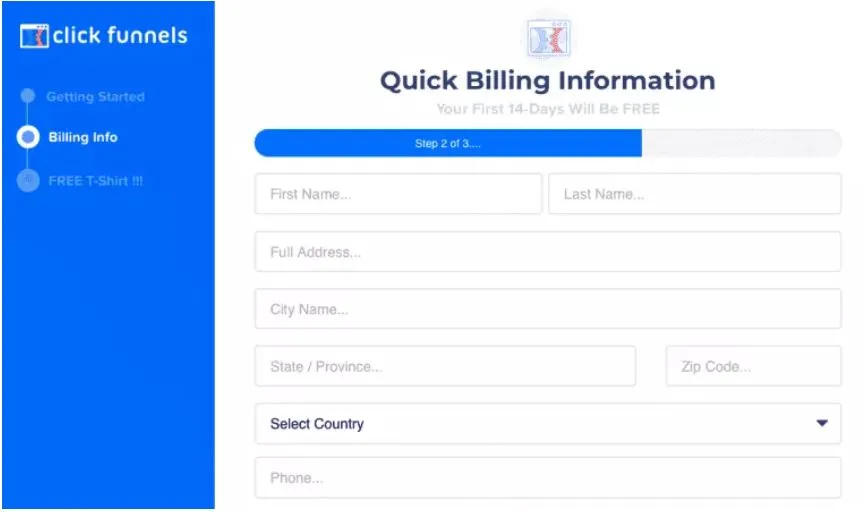 ClickFunnels accept all kinds of credit /debit cards. Here, using different types of cards may not be accepted.
Note: if you give credit card information that does not mean that you will pay any cost. However, you will have to pay after your trial period ends.
Apart from this, you will be charged $47.00 if you select the 9 Secret Funnels Training and the order bump.
So, if you don't want to be charged make sure that you don't select it.
Step #5: Here, you have to agree to ClickFunnels Terms of Service, Privacy Policy, and Affiliate agreement.
Before that, review all the links throughout. And click those boxes which you agree with.
Step #6: Press the process My Payment & Information button.   
Below the button, you will find all the information of the plan selected and the cost per month for those plans. After the free trial, you could see a brief onboarding video.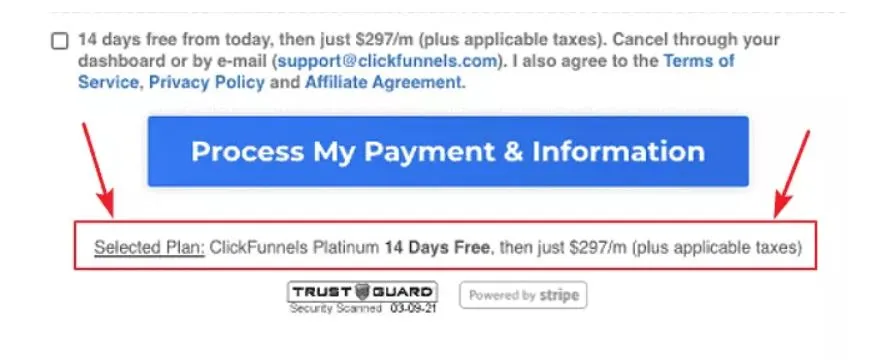 Here, you also get a ClickFunnels funnel hacker-free t-shirt,  the Funnel Builder Secrets Lite Course,  and 100+ free templates. You may skip the video and click the option of  No thanks. I can create my own funnels just fine.
Step #7: Congratulations! Now you are officially registered with ClickFunnels and the account is ready to use for the business.
However,  ClickFunnels doesn't offer long-term contracts which are very important to know to you. Here, you can cancel or downgrade your account anytime. To do that you just click on your dashboard.
You can duplicate the whole marketing funnel from a shared funnel feature.  Whenever someone shares their funnel with you, it is easy to copy.
This one is the easiest way for an entrepreneur to create a high conversion sales funnel without having any problem creating a marketing funnel, landing pages, a website,  and sales pages.
To sign-up for ClickFunnels from a shared funnel URL, you need to follow 7 steps:
Step #1: Open a "Share a Funnel" page.
Step #2: Put all your information and press the Start Your Free 14-day Trial
Step #3: Select your plan from ClickFunnels or ClickFunnels Platinum.
Step #4: Put your credit card details and finish the ClickFunnels billing form.
Step #5: Select the Active My Account Now
Step #6: Either you can opt to join ClickFunnels One funnel Away challenge by selecting, Yes! Join the One Funnel Away Challenge. Or you can avoid it by clicking No! Thanks. I don't want to join the One Funnel Away Challenge at a HUGE discount. 
Step #7: Now you are officially registered in ClickFunnels. You can use it for business.
However,  for your better understanding,  we are explaining in more detail.
Step #1: Enter the " Share a Funnel "page.
To do so just click the link below:
https://app.clickfunnels.com/funnels/6602516/share/f6te2ehxasjbj9uk
Step #2:  Put all your details and then press the Start Your Free 14 Day Trial button.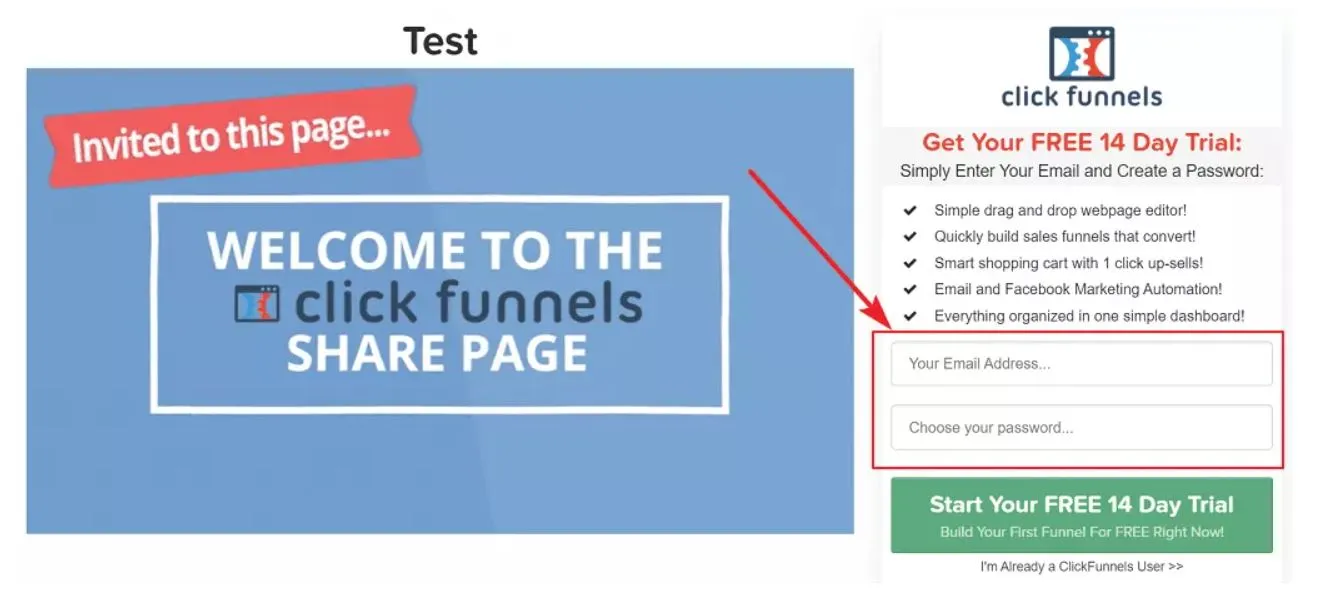 Step #3:  Select your plan just click ClickFunnels or ClickFunnels Platinum.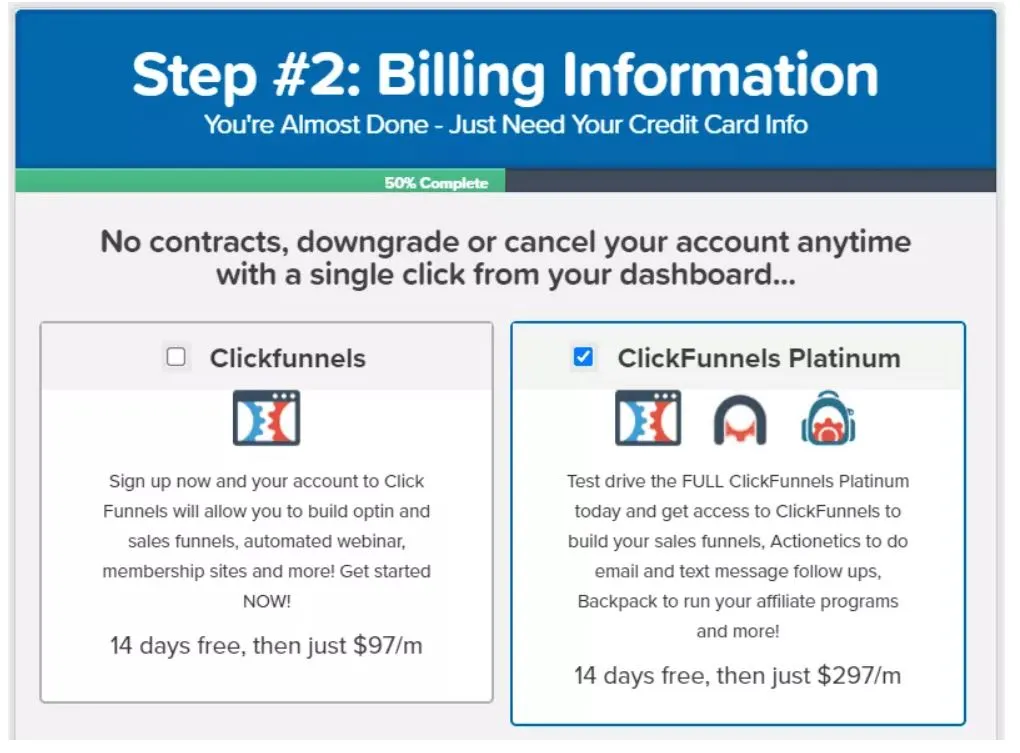 Step #4: Put your credit card information and finish the ClickFunnels billing form.
Once again if you want to avoid costs, don't select the order bump.  Otherwise,  if you choose it and opt for funnel training. Therefore, you will be charged immediately.
Step #5: Press the "Active My Account Now" option.
Step #6: There are two options to join and opt-out of the ClickFunnels One Away Challenge.  You can choose your own option between these.
Step #7: Now you are finally registered with ClickFunnels. Here, you can use this account for your business growth.
What You Get if You Register a ClickFunnels Account? 
In order to increase your business success, you have to use and register at ClickFunnels.
Let us tell you the benefits of ClickFunnels whenever you register.
1. ClickFunnels 14 Day Free Trial
Whenever you choose to open an account on ClickFunnels, they offer you a 14-day free trial period.
During this free time period,  you can enjoy all the amazing ClickFunnels marketing features. Here, you also get many landing pages and templates.
The pricing plan depends on which plan you want to access.  They showcase all the features, products, and services on those plan charts.

2. Free Access to ClickFunnels FunnelFlix Program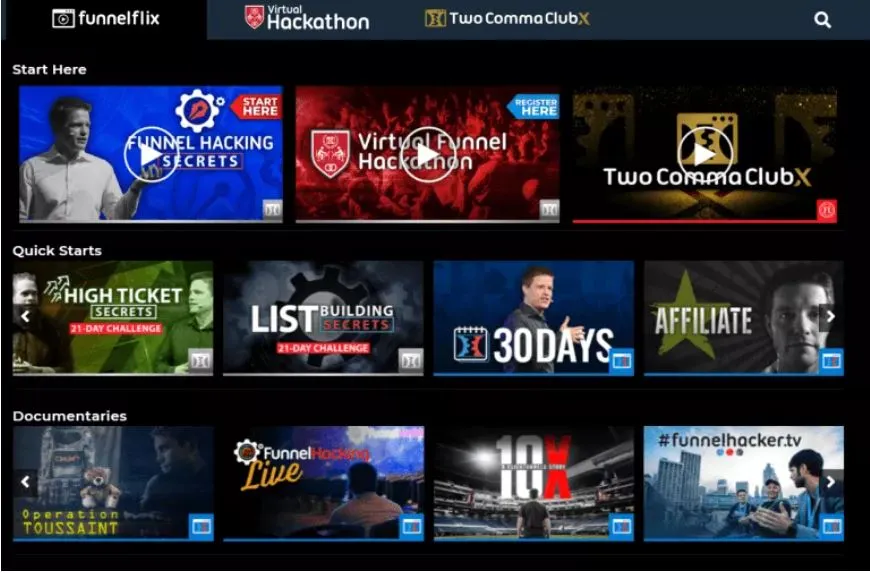 If you are familiar with Netflix's online marketing strategy and business, then it will help you to understand the FunnelFlix program. Both of them are pretty much similar.
Here, you will get Russell Brunson's best training materials, tips, and other important content. Actually, FunnelFlix is loaded with the training modules and courses:
Funnels
Sales
Marketing System
Business Strategy
Copywriting
Mindset
Using ClickFunnels could help you to reach your sales page and performance also.
3. Free Access to ClickFunnels Sales Funnel and Landing Page Templates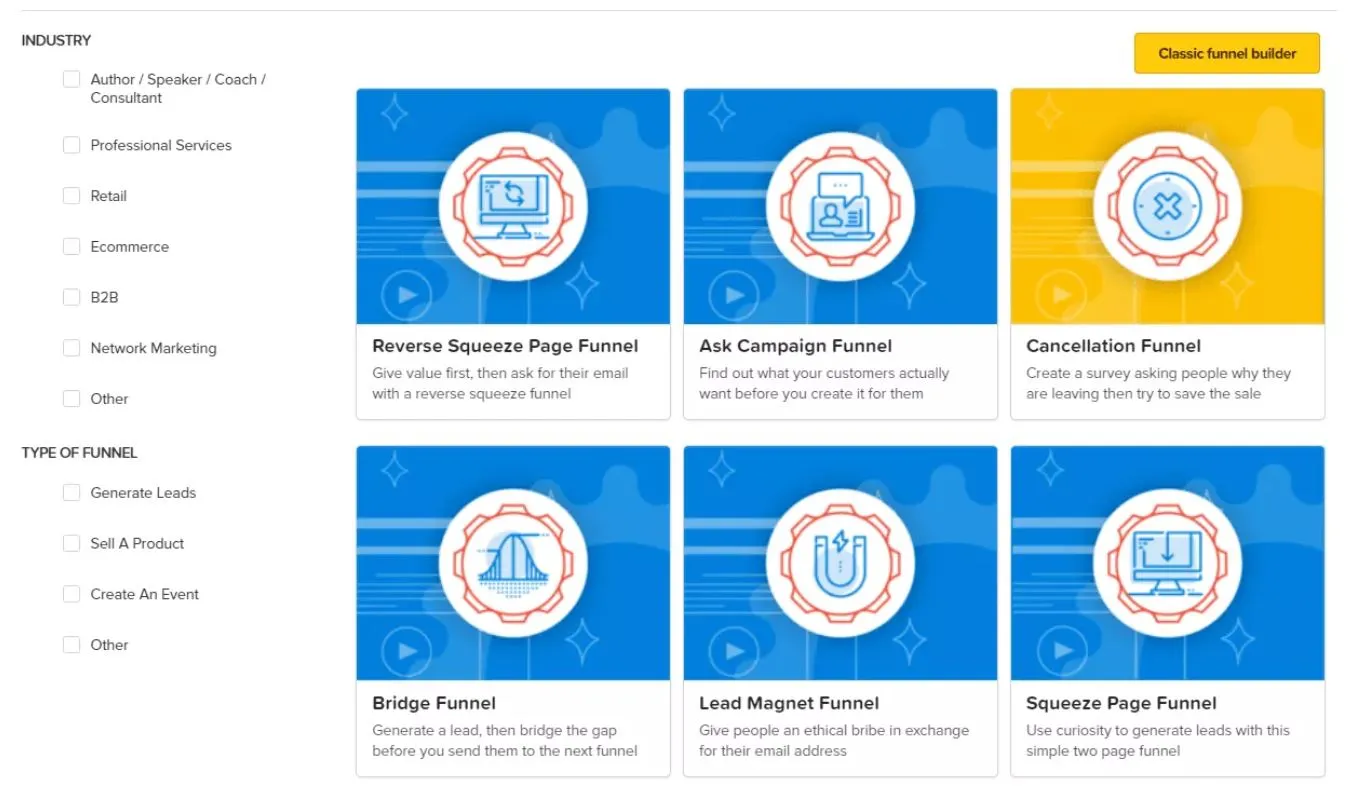 Here, ClickFunnels offers predesigned  100+ templates. For your sales process,  capturing leads or other help, these templates will help you every single step of your business growth.
Using the drag and drop editor feature,  you can create a sales funnel within a minute.  Apart from that, these templates serve your website, landing page, and any other business needs.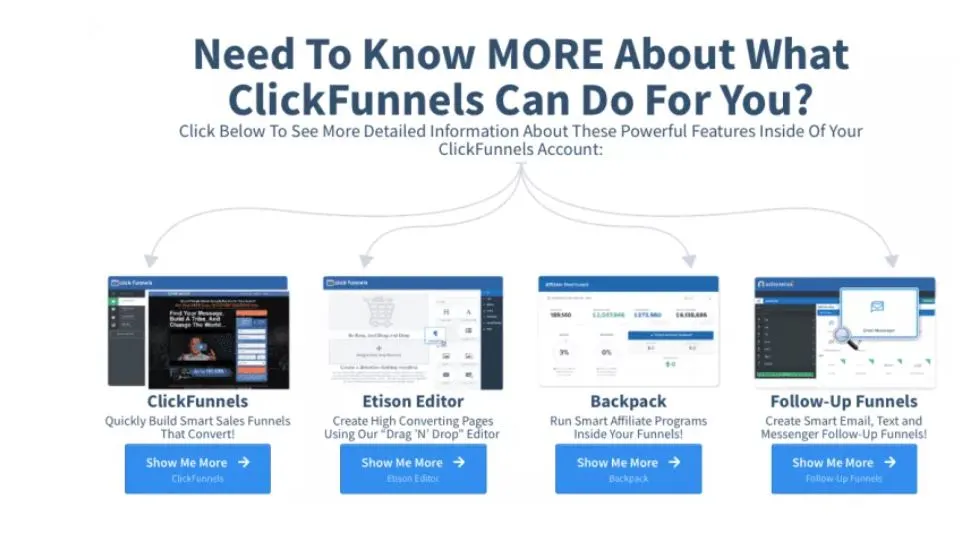 4. ClickFunnels 30 Days Money-Back Guarantee
You can get your money back within 30 days if you don't like to use ClickFunnels. They will not ask any questions.  To get back your money,  you have to contract with ClickFunnels customer support.  Just go through this email address support@clickfunnels.com.
How Much Is a ClickFunnels Membership? 
Their price varies on plans and the features they give to you. So if you pay $97.00/month, you will get 20 sales funnels, 100 landing pages, and 3 domains.  You can also get unlimited funnels and landing pages, along with 9 domains. For this offer, you need to pay $297.00/month.
Can You Get ClickFunnels For Free?
Actually, you can't use free ClickFunnels too long. After the trial period,  you have to pay for it.
However the good thing is, during the period of trial,  you can freely enjoy the access to ClickFunnels facilities. Here, you can also create a marketing strategy, marketing funnels,  templates, and other features also.
During the trial period of sales, the funnel tool offers so many things to its customers. That is a pleasant surprise for all of the new customers.
ClickFunnels Pricing
There are three categories of pricing plans which ClickFunnels offer to you.
ClickFunnels Starter Plan
The cost of the ClickFunnels Stater plan is only $97.00 per month. 
For a small or new start business, this plan is the best one. It has shared funnels. So that you can make 20 funnels with the drag and drop page builder editor.  Apart from that, you will get 100 sub-pages within each funnel, including  1 sub-user, 3 payment gateways, 3 domains, chat customer support, and FunnelFlix.
ClickFunnels Platinum
At $297.00 per month price, ClickFunnels Platinum is available to anyone. 
Are you a medium-sized entrepreneur and company?  Therefore this ClickFunnels Platinum is the perfect plan for you.
In this plan, they will give you shared funnels, unlimited funnel building, unlimited pages, 3 sub-users, 9 payment gateways, 9 domains, unlimited follow-up funnels,  customer support,  weekly peer review hackathons, and hours of FunnelFlix additional training and courses.
ClickFunnels Two Comma Club X
The consumers have to bear $2497.00 per month for Two comma Club X.
The user can access everything which ClickFunnels Platinum plans offer. Here, you will get additional 10 sub-users, 27 payment gateways, 27 domains, customer priority, a VIP phone support system, access to a Facebook group, hours of additional training, courses, and many more under FunnelFlix.
ClickFunnels Refund Policy
For refund, ClickFunnels use a different policy.
Within 30 days after purchasing ClickFunnels you can request a refund. Only for ClickFunnels tangible products, you may claim this.
However,  you can't claim a refund if you purchase professionally designed templates from the ClickFunnels marketplace. Here, in this case, they are not bound to refund any money.
For the details, you can check ClickFunnels Terms of Service which is available in both English and Spanish.
Conclusion
We hope you have got enough ideas regarding Clickfunnels sign up. The process is pretty much easy. What you need to do is to follow the above steps comprehensively. Clickfunnels offers you different types of packages and you the best one for you based on your choice.
So, if you are looking for a suitable plan for your business then use these plans. You will get all the benefits which they offer to you. Moreover, you will be trained with all the experts.  To grow your business ClickFunnels is the ultimate solution that you ever have.
ClickFunnels Special Offers
There are some interesting special offers from ClickFunnels. If you are interested in having those just checks: 
#1. ClickFunnels 14 Days Free Trial
What you get:
14 days trial to

ClickFunnels

Product Secrets

($97)

Funnel Builder Secret

($1,997)

Add Skills

($498)

Tony Robbins Private Collection

($997)

100+ Funnel Templates

($1,997)

Funnel Hacker Forum

( priceless)

FREE

Book Funnels Templates

FREE

Webinar Funnels Templates

FREE

Product Launch Funnels Templates

FREE

High Ticket Funnels Templates

PRICE:

 FREE!
#2. One Funnel Away Challenge 
What you get:
30  Days of Video Missions from Russell Brunson.
30 Days of Coaching from Stephen Larsen & Julie Stoian
One Funnel Away Challenge Customized kit

BONUS:

Physical copy of the Challenge Workbook.

BONUS:

MP3 Player

BONUS:

30 Days Hardcover Book

BONUS:

Unlimited access to 30 days trial period

BONUS:

Two Comma Club Interviews
PRICE:

$100
#3. OFA Platinum
What you get:
FREE

30 Days Coaching including Russell, Julie, and Steve.

FREE

OFA Challenge Kit (+30 Days Book)
ClickFunnels Platinum for 6 months

FREE

Virtual Hackathons

FREE

FunnelFlix Platinum

FREE

White Glove Onboarding Service

BONUS:

DotCom Secrets Live

BONUS:

Expert Secrets Live

BONUS:

Traffic Secrets Live
PRICE:

$997
#4. Funnel Hacking Secrets Bundle 
#5. Funnel Scripts Software 
#6. ClickFunnels Annual Plans
FAQs
1. What is ClickFunnels?
Ans: ClickFunnels is a tool that will help you in your marketing and sales strategies. You can create your website and covert the consumers to your business.
2. How to get ClickFunnels Discount?
Ans: There is only one way to get ClickFunnels Discount and that is you have to purchase it. After buying it you could enjoy the Discount if they provide at their site.
3. What is ClickFunnels Platinum?
Ans: ClickFunnels Platinum is a ClickFunnels plan and you can purchase it at $297. Here, you will get unlimited access of their features.
4. Does ClickFunnels offer a 60 Days Free Trial?
Ans: From 2022 ClickFunnels gives a chance to their consumers to get a free trial for 14 days, 30 days, or 60 days.
5. How to Buy ClickFunnels?
Ans: You have to buy ClickFunnels from their website. They allow you to affiliate you but if you want to use it. Then you have to buy it at $97 per month.
6. How to create a membership site with ClickFunnels?
Ans: There are 3 steps to create a membership site with ClickFunnels. Those are: (a.) Selected the membership site step in the funnel. (b.) Click on the membership category. (c.) Select a membership site page template
7. Is it possible to get ClickFunnels for free?
Ans: There are no legal way to use free ClickFunnels. So, you must buy this if you want to enjoy their services.
8. What is a Traffic Secrets Book about?
Ans: Russell Brunson wrote marketing strategies in a simple way, so that everyone could apply it in their business and products. To increase the sales and drive Traffic Secrets Book is the best one.
9. What is Funnel Hacking?
Ans: It is a easiest way to dig your competitors' marketing funnels strategy. If you want a quickest way to start business then you can use Funnel Hack.
10. What is the Funnel Challenge?
Ans: It is a 30 days training course of building and launching a funnel. This also known as One Away Challenge.
Disclosure: We are an independent ClickFunnels Affiliate, not an employee. We receive referral payments from ClickFunnels. The opinions expressed here are my own and are not official statements of ClickFunnels or its parent company, Etison LLC.